Shopping Cart
Your Cart is Empty
There was an error with PayPal
Click here to try again
Thank you for your business!
You should be receiving an order confirmation from Paypal shortly.
Exit Shopping Cart
| | |
| --- | --- |
| Posted on March 27, 2017 at 12:35 AM | |
Some weeks ago, while at a vinyl listening session at Audio Degenerate (a local Hi-Fi shop), the Rogue Audio Sphinx v2 came to my attention. Since we had just made an unboxing of the Sphinx, the subject of the current integrated market design trends came up.
The current manufactures fashion is to include digital conversion to analog converters "DAC" on their integrated amplifiers. That may not be a problem if they were not sourced from mediocre home theater receivers. I dread that with passage of time these converters will become obsolete. That's why I still believe a fully analog integrated like the Sphinx is a better long term investment. But wait a minute! Is the Rogue Audio Sphinx V2 all analog inside?
At first hearing, I had to agree with all the good reviews this integrated amplifier has received. Yes, it is good and sounds spectacular, so don't read any more. But if you what to know what makes it so especial, go on.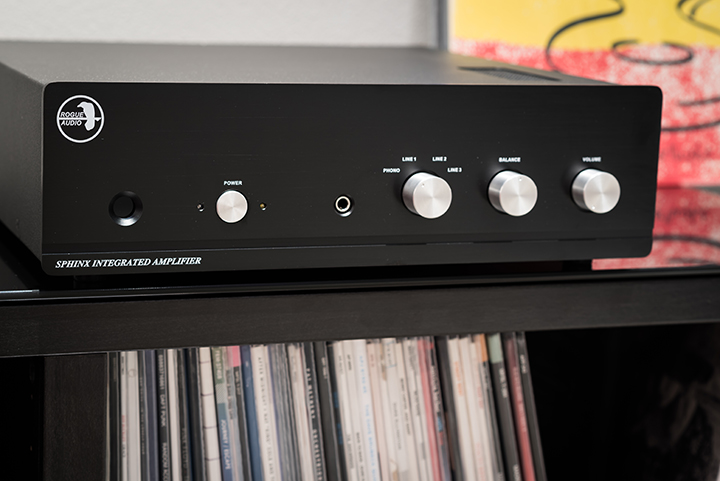 Construction
When I took the Sphinx home for review, all I knew was; it $1,400 price and that it was a hybrid tube preamp and solid state amp design.  It is not until I see inside that I realized it was a class D amplifier and myself not being a fan of this amplifier typology, was very impressed by it sound performance..
Its exterior is: simple, robust and solid; nothing luxurious. Its dimensions are 15.5 "(W) x 5.00" (H) x 17.00 "(D) and weighs 25 lbs. It has three line inputs and nice sounding moving magnet (MM) only phono preamplifier; it also has outputs to add an external amplifier or a subwoofer.
The Sphinx uses a linear power supply, with a 375VA power toroidal transformer and a hefty capacitor reserve bank. The pre-amplifier stage uses two 12AU7 tubes, whereas, the class D amplifiers are based on the Hypex UCD180 modules. Everything is mounted on a thick circuit board and uses all discrete parts.
This poppy produces 100 watts at 8 ohms and has the ability to double the power into 4 ohms, easily handling power hungry speakers.
I was also impressed by the internal phono stage. It has better resolution, texture and dynamism than separate units costing upward of $500. Signal gain is 40db with a load of 47kohms, suitable for the majority of (MM) cartridges.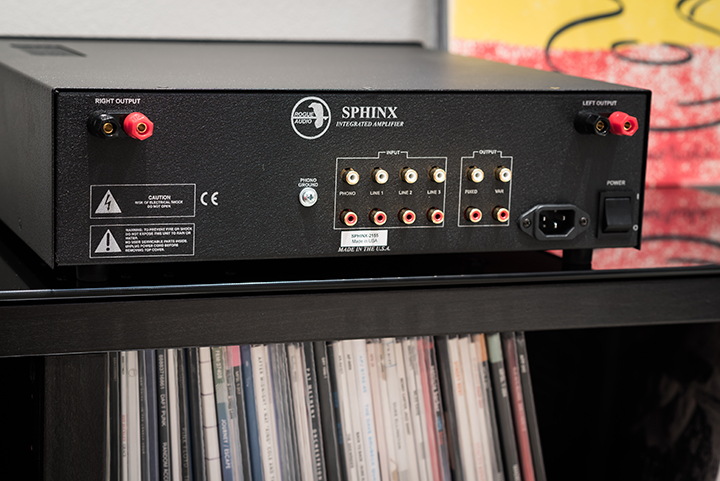 Installation
I used the Rogue Audio Sphinx with my Dynaudio Countour 20 Speakers, although, I had to use the Ortofon ST-7 step up transformer to increase the signal level from my Ortofon Quintet Black to be compatible with the Sphinx phono stage. Everything was connected using Nordost Red Dawn wiring.
Sound
You can definitely feel a little of the air and tone associated with the tubes on this integrated amplifier, but it has excellent dynamics thanks to the class D amplification combination. The tubes help maintain the musicality but by no means the sound get to sophisticate or refined, it has an immediate and harsh characteristic.
The Sphinx will not soften an aggressive system; it is transparent and reproduces the information as is. In the complex passages of Paco de Lucia's live album One Summer Night (Philips - 822 540 1Q) It remains consistent, speed and transients of the guitar notes are easily differentiated from the rest of the instruments, adding to sense of transparence and realism.
Conclusion
The Rogue Audio Sphinx v2 has changed my perception of class D amplifiers. The combination with tubes makes it one of the best integrated amplifiers I have heard at this price, that is why I recommend it.
If you liked this article you may be interested on our Cambridge Audio CXA80 review.
Specifications:
Rogue Audio Sphinx v2
www.rogueaudio.com
Estimated Price: $1,400 (Without remote) / $1,500 (With remote)
Typology: Hybrid tube class D design
Power: 100w @ 8 ohm / 200w @ 4 ohm
Phono stage: moving magnet (MM) / (gain 40 db) / (loading 47 kohm)
Dimensions: 15.5" (W) x 5.00" (H) x 17.00" (D)
Weight 25 pounds
Associated Equipment:
Turntable: Clearaudio Champion w/ Unify Tonearm
Cartridge: Ortofon Quintet Black (Original Boron Cantilever Version)
CD player: Marantz SA-15s2 Limited
Speakers: Dynaudio Contour 20 / Stands Dynaudio Model 6
Power conditioner: Furman Elite-15 PFi
Interconnect cables: Nordost – Red Dawn (0.6m) (RCA)
Speaker cables: Nordost - Red Dawn LS (2.5m)
Power cables: Nordost - Red Dawn (1m)
Acoustic materials: MioCulture
The reviewed product was provided to FormatoAnalogo.com by:

Audio visual equipment store (New & Used)
f. @audiodegenerate
t. (787) 405-5529
Wednesday to Sunday, 12:00pm - 7:00pm
Guaynabo, Puerto Rico
Follow us on Facebook, your all in one online analog and high-end audio information resource. Also, don't forget to subscribe to FormatoAnalogo.com.
Due to reader's popular demand, we are changing the site main language to English. We would try to translate our entire old article as soon as possible, but it would take time. As always we appreciate your patience and support.
Categories: Integrated Amplifiers Reviews, Recommended Gear
/